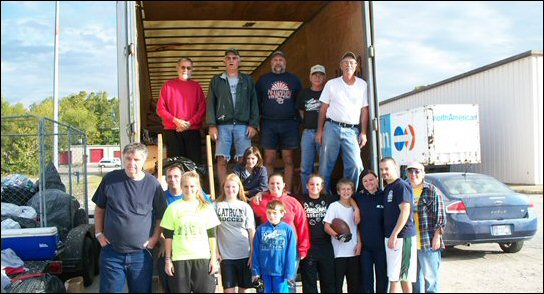 Kavanaugh, Sarah Wichman, AJ Sellers, Kevin Wichman and Mary Jo "Wichman" Sellers.  In the truck is (L-R) is the Wichman Brothers, Steve, Mike and Chuck,  Raymond Hart and Jeff Collison.
Paper Drive Continues For Right To Life Organization
Mike Wichman who is now in charge of the Right To Life Paper Drives took over after his Dad Bernie Wichman got sick in 2002 and passed away. Bernie Wichman took care of the Paper Drives from the beginning back in 1978 until his health failed and Mike, his son took up the torch.  Mike has always helped at the drives and along with his brothers Chuck and Steve Wichman were always dependable help for the drives.  In fact the the Wichman Family has always well represented at the Paper Drives. Beginning with Bernie and his brothers Bill and Bob and Bernie's children and other members of the Wichman Family, we could not have done it with out them.  Bernie's wife Alma always made the sandwiches and got the soft drinks for the crew.  When Alma got sick and was unable to do it anymore, their daughter Mary Jo "Wichman" Sellers took over and does it to this day.  Mary Jo was also the Treasurer for the Daviess Co. Right To Life  for many years and has continued the tradation of the Wichman family helping out at these paper drives. Many of the Wichman Grand Children has helped at one time or another and continue to do so to this day.  
The Paper Drives stated back in 1978 at the parking lot next to Washington Catholic School, then moved to old 3-D Plaza, then to the old Big Blue Parking lot and now hold their drives at the Old K-Mart Parking lot. Over the years the Paper Drives would fill a full semi in one day but now because of the cut back in newsprint it may take two drives of more to fill a semi trailor. In the last 4-5 years the Right To Life has started recycling alumium cans and this has proved to be very benificial to the group. At one time the Paper Drives also took magizines but we do not have an outlet to sell them and that was discontinued years ago.
The Paper Drives are held the first Sat. of the even months of the year with the main location at the old K-Mart Parking lot.  We have pickup points at Plainville, Odon, Elnora, Montgomery and Cannelburg.  Over the years it is estimated we have saved a thousand or more tons of paper from going to the landfill and in the process helped the RTL Cause. At one point the Paper Drives was the main source of income for the organization.