The Adoption Story of Hezekiah Callahan First, a little about Adriane and Roger: We were married in 2010 after a short, one-year courtship. After we were married for a couple of years, we decided to start a family. Easy, right? With that decision, we suffered through about 2 1/2 years of heartache. Placing our burdens on God, we were given hope and peace by the introduction to adoption. We could still parent a child or children!
Our Adoption Journey Begins: We were about to learn a lot about the legalities and mechanics of adoption, but also much more emotionally and spiritually. Roger was aware that an adoption had taken place in the family of a close college friend. Although he was not aware of the specifics, he knew that his friend's sister, Bridget, had placed a newborn child for adoption. Roger hadn't reflected much on Bridget's circumstances, but Roger and Adriane both would soon learn that it was likely one of the hardest, if not bravest decisions that Bridget or any pregnant woman could make. We reached out to Bridget to discuss her adoption experience, and were specifically curious by what means she placed her child for adoption. She introduced us to Bethany Christian Services. This was the agency in which her son, Liam, was placed for adoption. Bethany is an accredited full-service adoption agency and non-profit organization. Bethany envisions a world where every child has a loving family. They do that through adoption, foster care, and pregnancy counseling services. Bethany has a presence in 36 states and in several nations globally. Fortuitously for us, Bethany Christian Services has a presence in Indiana and an office location on the northeast side of Indianapolis. With apprehension and anxiety, we went to an introductory meeting at Bethany of Indianapolis in November of 2012. How blessed we have been because of it!
Our Education and Application: Each state has different requirements, but they are mostly similar. In addition, different agencies may have additional requirements. The prevailing perception of what is involved in a home study probably involves an inspection of one's home. That's probably the easiest part of the home study! The paperwork and interviews required assessing the emotional maturity of the prospective parents take a lot of time and effort. Well, we survived the application and home study process and completed the requirements in April of 2013.
A Match: Only after a very short wait, in early May 2013, we received a call from a Bethany counselor that a young, 16-year-old, pregnant girl named Lexi was interested in meeting us. Lexi was 5-months pregnant, and this marked the beginning of the open adoption of our son. Between May and the expected due date in mid-August, we met, talked, or texted with Lexi and her mother several more times; building our relationship.
Our Son, Hezekiah: Around the 13th of August, we received the call that Lexi was heading to the hospital to deliver. Then the call came on the 14th that she had given birth to a healthy baby boy! We packed our bags and headed north. On the morning of the 15th there came a call from the Bethany counselor; one that we didn't expect. Lexi was reconsidering her decision to place her child for adoption. We spent the next several hours waiting on a call from the counselor on Lexi's final decision, one that was ultimately and completely hers. After what seemed like an eternity, we received a call to come meet and receive our son. We arrived in the hospital and a nurse and Lexi's mother brought us Hezekiah. Lexi didn't have the physical and emotional strength to see us at that time, but we knew that wouldn't be the end of our relationship.
Our Adoptive Family: Hezekiah is now four years old (at this printing). His whole life, Hezekiah has had the acceptance, love, and support of our immediate family, extended family, friends, and community. He is definitely our son, adopting Roger's curiosity and corny, mischievous, and dry sense of humor and Adriane's loving and caring nature. We maintain an open relationship with Hezekiah's birth mother, Lexi, sending her text updates and occasionally visiting with her in person. This is so important for Lexi's continued healing process and reassures her of her decision. It also facilitates Hezekiah being familiar with his adoption story as he grows and matures. Although we don't openly advertise our adoption or introduce Hezekiah as our adopted son, we do not shy away from educating or informing others about the blessing of our adoption story if the circumstance allows. This whole experience has given us a closer, more educated and personal perspective on the sanctity of life, especially that of an unborn child. It's hard to imagine what our lives or what the world would be like if Lexi, in her crisis, had made the decision to abort. It's so important that the "Bethany Christian Services" of the world exist. Ultimately they can exist through the requests and needs of families like ours or the donations from people like you.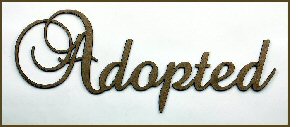 Past
Adoptive
Families